On April 8th 2021, the signing ceremony between Sinomine Group and the Institute of Research, Resources and Environmental Protection was held in Huairou Science and Technology Innovation Park. Sinomine's Chairman Mr. Wang Pingwei and Vice President Mr. Zhang Xueshu, and their counterpart GM MR. Liu Ying, Vice GM Mr. Wen Jiankang attended the ceremony. Mr. Zhang and Mr. Wen later signed the strategic cooperation agreement on behalf of each party respectively.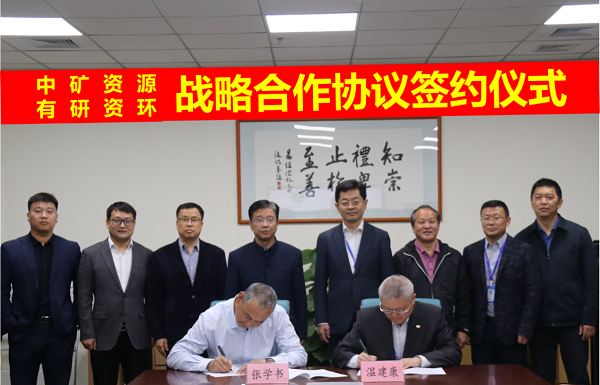 Sinomine owns the world's premium cesium resources, which is the largest producer and supplier of Cs-Rb chemical products. It is capable of mining, processing, produce the CS & Rb products. Meanwhile, Sinomine is also the major supplier of battery grade lithium, standing for a large shares in the market in China and also the supplier for Telsla. Sinomine is the also the leading enterprise in oversea resources exploration. Mr. Wang said, "Sinomine and the Institute have broad cooperation space and prospects in non-ferrous metal mineral processing and smelting, new material engineering technology research and development, and extension of the rare light metal industry chain. Breakthrough results have been achieved in the application field, making due contributions to the implementation of the national energy development strategy.
Institute of Research, Resources and Environmental Protection is a subsidiary of the Research Technology Group Co., Ltd. It is mainly engaged in the development, production and service of non-ferrous metal resources green and high-efficiency beneficiation metallurgy technology, ecological environmental protection technology, and functional new materials. It has carried out research on rare metal extraction metallurgical processes for more than 60 years. , In the domestic leading in the extraction metallurgy of titanium, zirconium, lithium, cesium, rubidium and other metals and the preparation of high-purity metals. Liu Ying said that he looks forward to sharing and complementing China Mining Resources in the extension of the cesium rubidium industry chain and the deployment of high-quality overseas mineral rights, and further expand the cooperation between the two parties in the development of non-ferrous metal resources and the research and development of new lithium cesium rubidium products, and accelerate Africa The construction of the regional processing and metallurgical joint laboratory provides a strong technical guarantee for the high-quality development of both parties.